Uniform (E room), 2017
10 aluminum rings
Size 5, Size 6, Size 7, Size 8, Size 9, Size 10
Roy Da Prince, FUTURA Centre for Contemporary Art, Prague, Czech Republic
with Quentin Euverte, Agnieszka Grodzinska, Kernel, Irina Lotarevich, Lucia Elena Prusa, Shanta Rao, Viktor Timofeev, Andrew Norman Wilson, Pedro Wirz, Dec 10th, 2016 – Feb 12th, 2017


non-union (Bi-pol), 2016
etching, paper, aluminum, glass
(27,7 x 40,5 x 3,5 cm)

union (Solo), 2016
etching, paper, aluminum, glass
(27,7 x 40,5 x 3,5 cm)

At the Cliffs of River Rhine, Oslo10, Switzerland
with Ana Andra, Lorenzo Bernet, Alexandra Bircken, Kaucyila Brooke, Heidi Bucher, Feminist Land Art Retreat, Luca Francesconi,
Elisabeth Greinecker, Christine und Irene Hohenbüchler, Stuart Middleton, Jonathan Penca, Lucia Elena Průša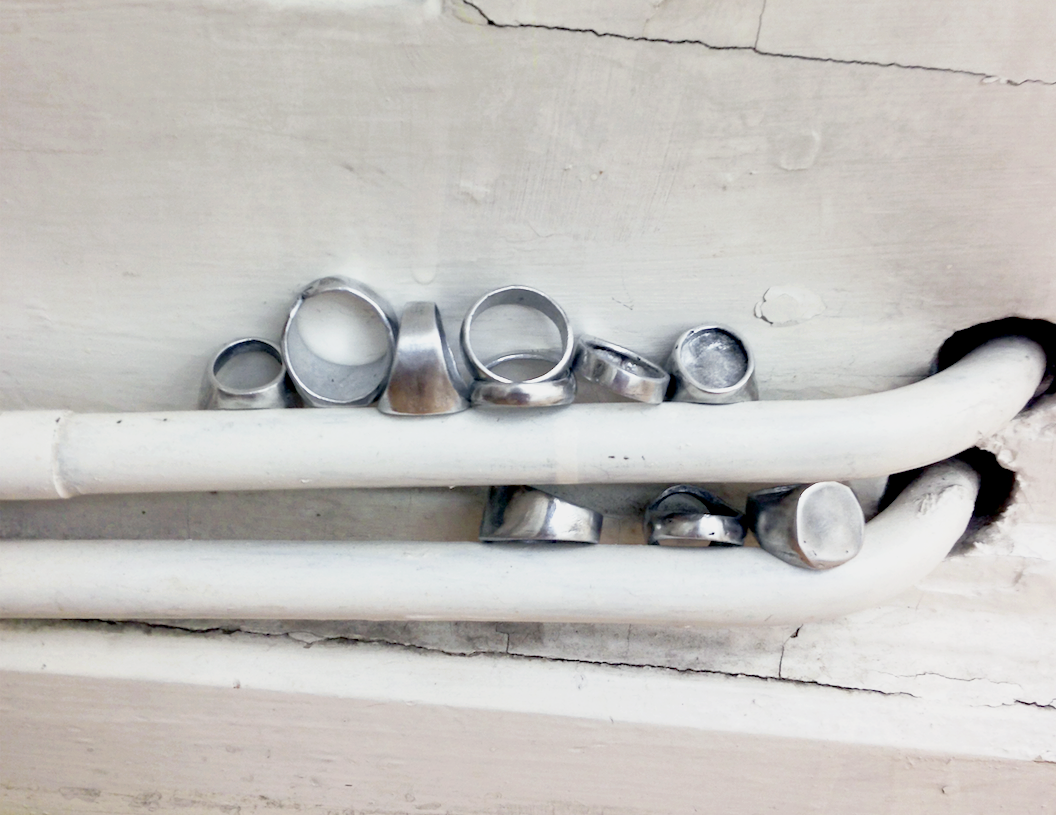 Uniform (on pipe), 2016
10 aluminum rings
Size 5, Size 6, Size 7, Size 8, Size 9, Size 10
SORT presents Merlin, Vienna, Austria
with Ulrike Buck, Frieda Toranzo Jeager, Debora Delmar Corp, Lucia Elena Průša, Manuel Solano
curated by Myles Starr
Pandora read by Melanie Ohnemus at Skulpturinstitut, Vienna
Pandora
by Anna-Sophie Berger and Lucia Elena Průša
Paperback, 94 pages, 2016
order here
Maybe this is about a woman in her mid-40s, she is still struggling with the problems she had when she was 27/30. She is a slacker. Her thoughts are clever,
but she prefers acting slow. She is fine with stains. Romanticism is something to keep in bay. Maybe no other person shows up. Just in her thoughts.
It's just about explaining her in every little detail we can imagine. She is not in a crisis. Probably something is happening to her. I really like the idea of a natural disaster.
Like something comes in that mixes the genres. And also bringing in nature and elemental forces. The smallest volcano is probably still important.
I LOVE PANDORA!
How would it be if there were comments from outside the story? Like breaking the cinema inside the reader's mind? Then it becomes maybe like a movie.
But not to comment on what she is doing, just to bring in a first-person perspective, which can be from anyone.
(I feel like we cannot do worse as annalists.)
Dead Letter Office, JTT, New York
with Anna-Sophie Berger, Christophe Charon, Feminist Land Art Retreat, Matthew Linde, Lucia Elena Průša and Min Yoon
Window 2, 2016
pigments, graphite, paper, aluminum, glass
60 x 40 x 4 cm

Window 3, 2016
pigments, graphite, paper, aluminum, glass
60 x 40 x 4 cm
Window 1, 2016
pigments, graphite, paper, aluminum, glass
60 x 40 x 4 cm
Uniform, 2016
10 aluminum rings
Size 5, Size 6, Size 7, Size 8, Size 9, Size 10


Chaoten, 2016
Series for The National Opera of Munich, Max Joseph Magazine III, 2016

The series Chaoten contains sujets various sources of Lucia Elena Průša´s work: manipulated calendar systems, a depiction of the sundial sculpture 012 315 621 921,
ruins of body-worn items for measuring units such as time and finger size, a detail of the object KENI Cycle and a photograph of a locked house.
Numerical classifications and profane moments that determine daily life were transmitted in different order, a semiotic version or a numerological combination.
NOW/HERE, FRANZ JOSEF KAI 3, Vienna
with Andy Boot, Marilia Furman, Flora Hauser, Raphael Hefti, Alicja Kwade, Lisa Oppenheim, Sarah Pichlkostner, Lucia Elena Průša, Fred Sandback, Max Schaffer, Sarah Schönfeld, Daniel Steegmann Mangrané and Iris Touliatou

012 315 621 921, 2016
aluminium, plaster, silver necklaces, graphite
64 x 130 x 290 cm
Scenes with Flat Objects, TRAVESIA CUATRO, Guadalajara, México
with Elena Bajo, Debora Delmar Corp., Donna Huanca, Tania Pérez Córdova, Lucia Elena Průša and Elena del Rivero



Untitled L, 2016
latex glove, leather glove, plaster
9 x 13 x 22 cm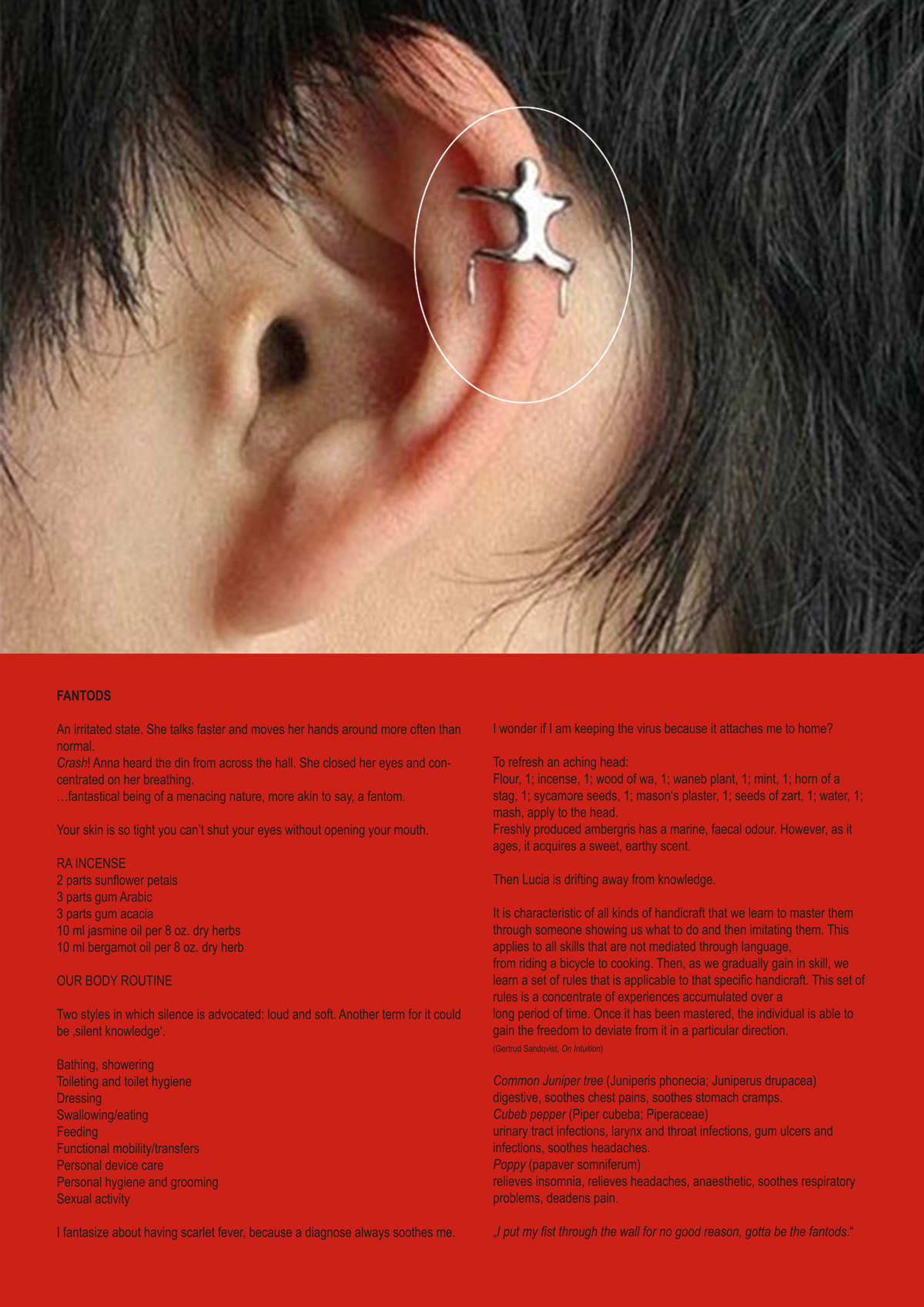 FANTODS with Anna-Sophie Berger, Galerie Kunstbuero, Vienna



VI I II IX IV V XII VII VIII III X XI, 2015
metal, aluminium, plaster, graphite
approx. 40 x 57 x 200 cm

KENI Cycle, 2051
artificial leather, laser print on paper, metal
64 x 78 cm
Untitled (Brixton), 2015
neoprene, leather jacket, necklaces, metal
approx. 40 x 40 x 150 cm

Untitled (Tyrolia), 2015
blackout fabric, gaiter, PVC
approx. 25 x 25 x 130 cm


Untitled, 2014
cardboard, loose graphite
50 x 70 cm


Untitled, 2014
cardboard, paper, loose graphite
diffrent dimensions




XII I II III VI V VI VII VIII IX X XI (11.33 Uhr), 2015
c-print, aluminium
25 x 17 cm
at New Needs, Haus Wittmann, Etsdorf am Kamp with Daphne Ahlers, Minda Andrén, Nadja Athanassowa, Anna-Sophie Berger, Juliette Bonneviot, Dora Budor, Adrian Buschmann, Tatjana Danneberg, Verena Dengler, Aleksandra Domanović, Flaka Haliti, HHDM with Lucia Stamati + Cathrin Ulikowski, Kathi Hofer, Nora Kapfer, Adriana Lara, Lonely Boys, Sarah Ortmeyer, Ivan Pérard, Lucia Elena Prusa, Hanna Putz, Jon Rafman, Rosa Rendl, Martyn Reynolds, Halvor Rønning, Signe Rose, Lennart Schweder, Lilli Thiessen, Dena Yago, Min Yoon, Marcin Zarzeka
Curated by: Rosa Rendl and Isabella Ritter. Pavilion curated by HHDM.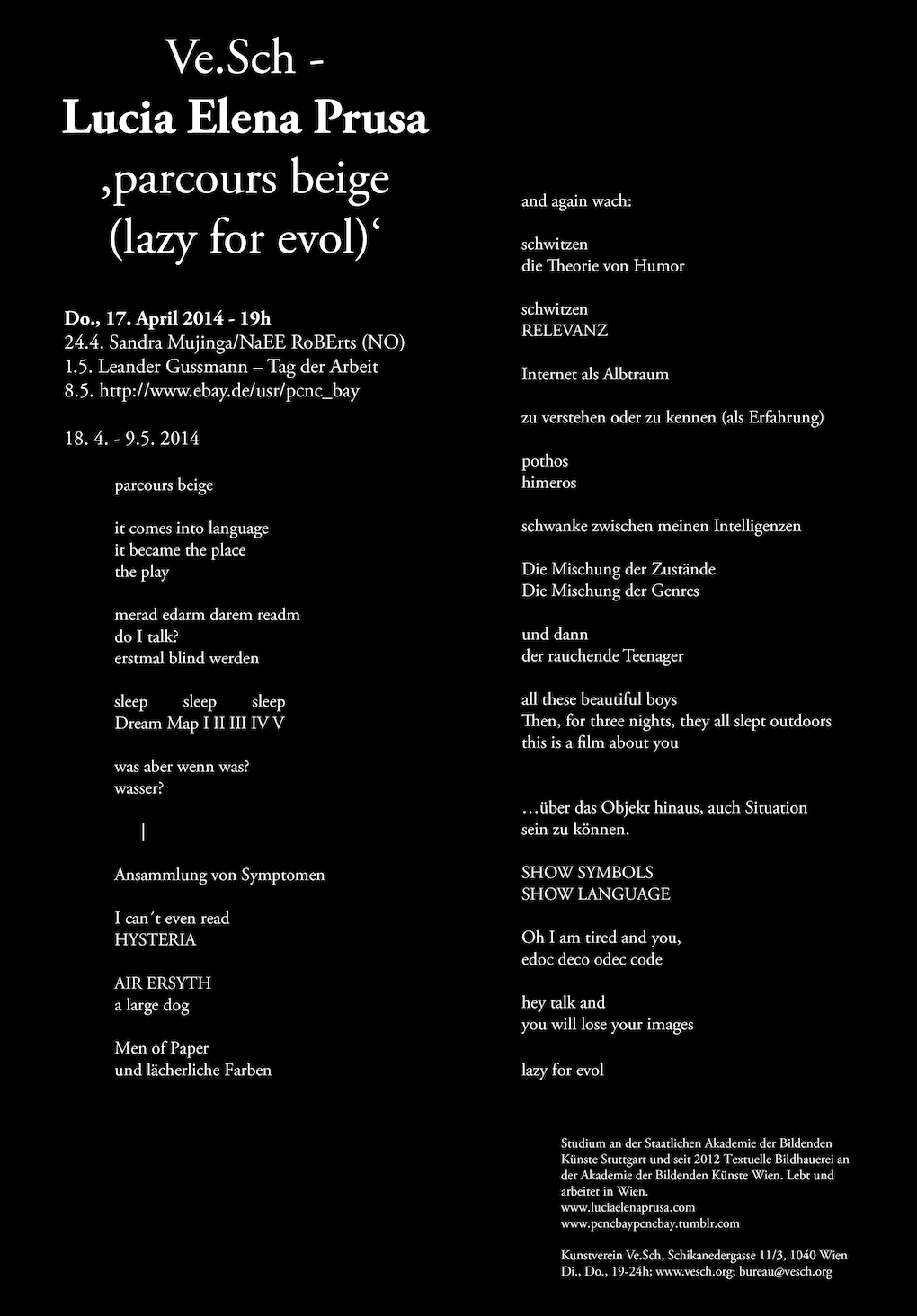 parcours beige (lazy for evol)', Ve.Sch, Vienna


faul, 2014
metal, tape, cable, wood stick
approx. 180 cm